There is a ton of construction materials (actually closer to three tons) in a basic oven build. Gravel, concrete, brick, rebar, mortar—they are all time-honored materials that have a lot of mass (what you and I think of as "weight"). They all have to be moved to your build site.
A time-honored way to do this is with the wheelbarrow. It's been around since at least 118 A.D., when the earliest known drawing of a laborer pushing one was produced. It has some mechanical advantages, but keeping a load steady on one wheel while your aching arms and back struggle to lift and push at the same time is not one of them.
I purchased a "Gorilla Cart" for this project, and so far I've been pleased with just how much help it has been.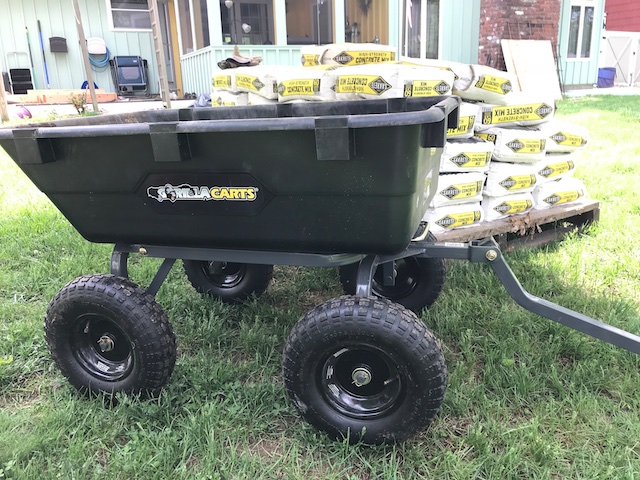 These come in several capacities (and prices!). This one is the GOR6PS. It can carry up to 1,200 pounds, or 500 if you plan to use its dumping feature (think gravel). I have barely dented the polyethylene body with said gravel, concrete grit, my miter saw, and other stuff I've carried. The tubular steel undercarriage is articulated, and I've found I can steer it backwards, in a tight curve, under full load, without spilling the contents. Try that with a wheelbarrow.
The dumping mechanism draws the front and rear parts of the undercarriage together, which has the effect of lifting the back up slightly and then over, for a better dump. The handle converts into a tow coupler for a garden tractor (which is the only way you're going to be able to move more than about 500 pounds, unless you're Superman or Superwoman).
Even though you'll still have to shovel in your stone, lift your concrete bags, and otherwise work on bite-size portions of your material, having a good cart like this will save your back and your time. It will also let you save your wheelbarrow for your ancient history museum.