Can you ship your pizza oven kits to my location in the Virgin Islands?
Yes and No -
While we can't ship our pizza oven kits, DIY smokers or fire pit grills directly from our warehouse in WA state to the Caribbean via FedEx Ground (the only way we ship packages). And we can't put the packages on FedEx Air or UPS Air as it would be an iNsAnE amount of $$$$…
But we CAN ship your order to Blue Ocean Transport - a freight forwarder in Miami, FL that makes WEEKLY sailings between Miami and several Caribbean locations and the beautiful Virgin Islands.
Before you place your BrickWood Ovens order, reach-out to Blue Ocean Transport and find out what their requirements are - and to see if they work for you. We've shipped many, many pizza oven kits to Blue Ocean Transport in Miami for our Caribbean customers and we would love to ship a pizza oven kit to you and your family!
Blue Ocean Transport
Anguilla
Antigua
Aruba
Bahamas
Barbados
Bermuda
Bonaire
Curacao
Dominica
Dominican Republic
Grand Cayman
Grenada
Guadeloupe
Guyana
Jamaica
Martinique
Nevis
Puerto Rico
St. Bart's
St. Croix V.I.
St. Eustatius
St. John V.I.
St. Kitts
St. Lucia
St. Maarten
St. Thomas V.I.
St. Vincent
Tortola
Trinidad & Tobago
Turks & Caicos
Virgin Islands
Virgin Gorda
---
Blue Ocean Transport accepts boxes and pallets containing -
All Pizza Oven Kits
Ceramic Fiber Blanket
Fire Brick / Firebrick
Refractory Brick
High-Temperature Mortar
---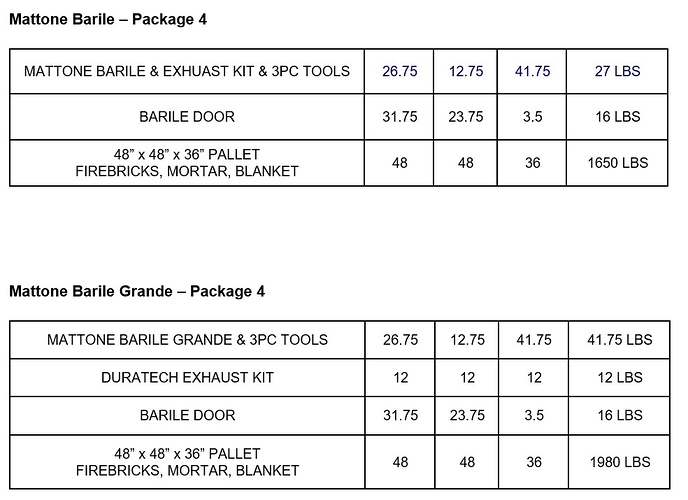 Summary

9.20: Freight / Pallet from Seattle to Miami $400 - (Biz delivery / Forklift on-site)