High-Temperature Mortar – Low-Cost 4 Material Blend
High-Temp Mortar is basically the glue that holds all the brick and block together on all wood-fired ovens (and fireplaces). This simple and inexpensive high-temperature mortar recipe is used the world over. From Australia to Zimbabwe… we all make it the same way.
In a clean wheelbarrow or mixing tub, thoroughly dry-mix the (4) materials listed below in a 3:1:1:1 ratio.
3 Parts Silica Sand
1 Part Hydrated Lime
1 Part Fireclay
1 Part Portland Cement
---
Silica Sand –
Silicon is the 2nd most abundant element in the earth's crust – so it should be easy to find bags of Silica Sand near you - right? Well, not so much. Pure Silica Sand (which is almost like powder) can be elusive. Some Landscape supply stores carry this item – some don't. But almost EVERY Pool Supply store does (it's pool filter sand) Google Maps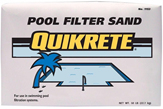 .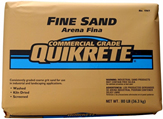 ONLY USE THESE TYPES OF SAND
Pool Filter Sand
Fine Sand
Fine Silica Sand (All mesh sizes)
(The Finer the Grain the Better)
DO NOT USE -
All-Purpose Sand
Concrete Sand
Course Sand
Mason Sand
Medium Sand
Mortar Sand
Multi-Purpose Sand
Natural Sand
Play Sand
Sand / Topping
---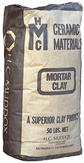 .
Fire Clay / Mortar Clay / Bricklayers Clay -
Pure Fire Clay, Mortar Clay and/or Bricklayers Clay is an organic material that has been dried and turned into a powder form. It is usually a brackish red / brown in color or it could be white / grey. The texture is like baking flour or baking soda.
These powdered clays can be found at most Masonry and Landscape Supply Stores for about $10 - $15 a bag. You may find a bag at a Big Box store, but it's unlikely. And you will never find fire clay at a Refractory Materials dealer.
If you can't find a bag near you, be sure to check with your local Ceramic Supply Google Maps and they can order a bag of Fire clay for you.
If all else fails - we can always ship you a bag of Fire Clay.
---
Hydrated Lime / Powdered Lime / Construction Lime -
This is the product that confuses some of our customers. It is NOT granulated Lime that is sold in the plant section at Home Depot or Lowes but a white and fluffy material that looks and feels like powdered sugar. It is used in the masonry and landscape industry – but it also used in the Plant Nursery industry in 50lb bags.
If you are unable to find this product at your Landscape Supply, call a local Plant Nursery and they can order lime for you - Google Maps
---

Portland Cement -
Portland Cement is sold at EVERY Big Box and most Mom & Pop hardware and lumber stores. It's a staple in the construction industry… and it's cheap! Just make sure you buy pure Portland Cement – NOT PORTLAND CEMENT WITH LIME PRE-MIXED INTO IT. That will throw-off the mixture of the high-temp blend.
---
PLEASE NOTE - THIS IS A SCRATCH RECIPE FOR HIGH-TEMPERATURE MORTAR. NO MATTER WHAT YOU READ ONLINE OR WATCH ON YOUTUBE, THIS BLEND CAN NOT, AGAIN, CAN NOT BE USED AS A HOMEMADE CASTABLE REFRACTORY. THIS RECIPE IS TO BE USED AS A MORTAR ONLY.
---
Be sure to Download & Print this High-Temperature Mortar Recipe!
BrickWood Ovens Installation Instructions